Here is a copy of the article written about our last series in the Daily Item on April 23rd.
"While You Were Out"
Youth ministry group recreates reality TV show
By Cassondra Lampkin
MILTON - Tearing down doors and putting down floors along with other construction, a youth ministry group from Christ Wesleyan Church aimed to teach life lessons and offer a reward.
Scott Kendall, student ministries pastor at Christ Wesleyan Church, said his group, Innerstate 180, is breaking traditional methods of teaching the gospel to youth. He said, "Traditional approaches are becoming less effective, the [method] had to change. We're trying to be cutting edge."
The idea of remodeling bedrooms of youth in the church was borrowed from The Learning Channel's reality TV show series "While You Were Out." Youth members of the church were encouraged to apply in January. From the applicant pool they selected four participants. Then volunteers of the project began remodeling and video taping their efforts.
The project concluded with a ceremony on April 5.
The purpose is: "Not just to do rooms over, but to give them the idea of prioritizing your life and knowing what's involved in making the right decisions," he said.
The name of the group is a symbol for youth to find purpose in their life. "They can turn their life around 180 from the world and toward God," he said.
Innerstate 180 meets twice a week at the church. Participants are from grades seven to 12. "We range from 80 to 100 kids throughout the year," said Pastor Kendall. The application asked members to say what they don't like about their room and what they would consider their dream room. In addition, applicants had to include pictures of their room.
"The project really caters to the kids' interests," Pastor Kendall said. "For example, the first one wanted a 'Lord of the Rings' background. The second involved much more decorating. The third, we replaced windows, put in two-by-fours and straightened it up. It was in a trailer and we had to completely reinforce it. We joked if the rest of the trailer could blow away, that room would still be standing. The fourth, it was just a bed in a corner of a basement and we made it into a room. We decorated it based on the theme of 'Chronicles of Narnia.'"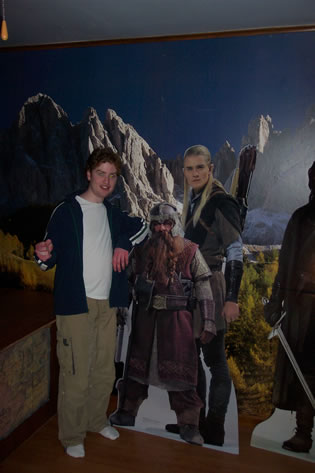 There are some minor catches to the project. While the room transformation is taking place, the participants are not allowed to see it, changes could take up to a week. Pastor Kendall said the families involved make short-term living arrangements for youth while they're out.
Bob Broschart, father of the first participant Caleb Broschart, said the volunteers finished construction surprisingly fast. "It was amazing the way they worked together under such tense circumstances, and in agreement."
But the fourth participant Tommy Weber, 13, of New Berlin, said the suspense was "driving me nuts. My parents didn't tell me anything," he said, but "I feel blessed. I have privacy now."
After construction is done, youth get to see the before and after appearance on tape. "We bring them up to the stage [of church] and they watch the video of their new room right in front of their peers. We want to see a live reaction from the students."
Pastor Kendall said to make the project a success they relied on donated time and money. He said, "Over $20,000 has been donated between the last two series."
Tiffany Longnecker, youth leader interior designer for the project, said, "Shopping and seeing the kids' faces" is what she loved about helping out. "They need to know there is a place at home where people love and care about them," she said.
It's important, she added, that "they know they can be loved for who they are and have a sense of value." Josh Rutherford, youth leader, helped with construction. He said, "It was a lot of running, but it has allowed me to connect more with youth and families" considering the time spent in the homes.
Pastor Kendall is framing other reality TV concepts for his ministry. "The next one is going to be really big, a 'Survivor' series. They will go out with a knife and a Bible and have to survive in a remote location for eight days."
Innerstate 180 member Sarah Geise, 15, of Northumberland, said, "I never see any of the shows but it's cool because no one else does it. It's fun and I get to be around a lot of people my age."
"Kids really have been challenged to share the gospel," Pastor Kendall said. They're encouraged to bring one person to the meetings and answer questions about faith. "It teaches them life lessons," he said.
Brenda Broschart, Caleb's mother, said, the message extends to youth as well as adults, "We need to organize our lives and get rid of things that clutter and make room for things that are really important."
[*** A small, but significant misquote has been corrected above in the second paragraph.]

You can see all of the videos from the series by following the link below!