It's a mess of fun
Sports camp activities bring out hundreds of children...

By Karen Blackledge
The Daily Item
July 27, 2006

Many came out wearing pudding, ice cream and gelatin in their hair and on their faces.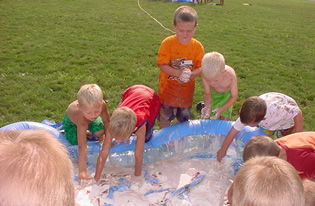 They were part of 200-plus kids who turned out for the free messy and water day Wednesday during sports camp, which continues through Friday at Christ Wesleyan Church near Milton.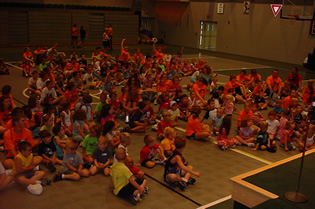 A group of boys got into a tug-of-war over a plastic pool lined with water and chocolate pudding. Then the girls took their turn at the rope, tugging back and forth.
Kari Seibert, 11, of Milton, who this year is serving for the first time as a volunteer counselor, looked messy with bits of ice cream, white topping and remnants of cheese balls on her.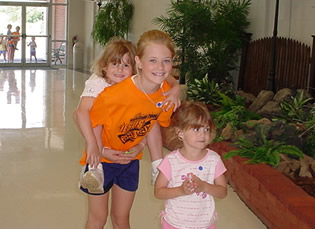 Her friend and fellow counselor Katie Leeser, 12, also of Milton, fared slightly better.
"We've been slipping around and having fun hanging out with the kids," Kari said.
The two started coming to the camp when they were younger.
Kristen Miller, of Lewisburg, one of the counselors, got surprised by another counselor who dumped pudding on her head.
Most of the campers wore swimsuits so they were prepared and able to wash off the gook in the "human car wash" made from overhead sprinklers. Some counselors sprayed the children with soakers.
Others got wet on the giant "slip and slide." Still more cleaned up by tossing water balloons at each other.
Jacob Crawford, 5, of the Watsontown area, liked getting all wet along with dunking in concoctions of ice cream and gelatin. He said his older sister and brother were also at the camp.
"We are getting more kids every day. It's never too late to sign up," said Bucknell University student and volunteer counselor Kevin Muller, who was helping out with fellow student Jon Grainger.
At another wading pool of red gelatin and water, children searched for marbles. They also tried to dunk counselor Adam Paulhamus who was in charge of 6- and 7-year-old boys.
"I'm in the Jell-O. It's gross," he said.
Afterward, he said, "It's a good thing I didn't wear a white shirt."
Some children at another wading pool looked in a mixture of ice cream, chocolate syrup and cherries for tokens to turn in for prizes.
Pastor Dave Wilcox said the camp has been held the past nine years, with numbers of participants growing every year. The camp is billed as an alternative to vacation Bible school and is run by trained teen counselors.
"Adults and coaches are here, too," he said.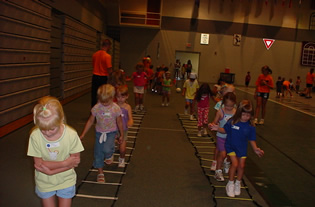 The camp was started by former youth pastor Doug Diven.
"The youths have opportunities to minister with the kids and build relationships with them," said Pastor Wilcox's wife, Dawn.
Pastor Wilcox said they encourage all kids to participate in the activities for all levels.
"This makes them feel special and makes sports fun for all," he said.
Youth Pastor Scott Kendall said the 50-plus youth counselors make the camp possible.
"They're doing a great job bonding with the kids," he said.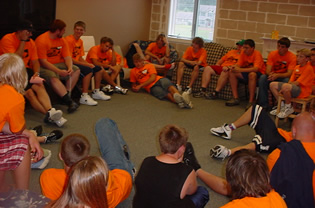 On Wednesday, attendance of kids alone reached 232. The first day there were 204 youngsters, ages 4 to 11, and on Tuesday 214 participated.
Parents can register children online at
www.cwcmilton.org
or call the church at 742-8987.